2013 Ram Heavy Duty Summary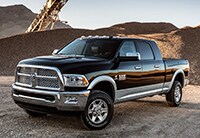 The Ram HD has been so strengthened the top level is essentially a medium-duty tow rig with a premium car cabin, and a $70,000 price tag to go with it. Load limits are high and towing ability is unequalled, whether you're farming, a hot-shotter or double-towing a big fifth-wheel and a dinghy behind it. At the lower end, a $40,000 Hemi Crew Cab 4WD makes a useful workweek truck to get the job done, and occasional weekend family tow-rig or big-box hauler that won't break the bank.
NewCarTestDrive.com correspondent G.R. Whale reports after test drives in Texas, California and Detroit; with Mitch McCullough reporting from San Diego.