2013 Ram Heavy Duty Introduction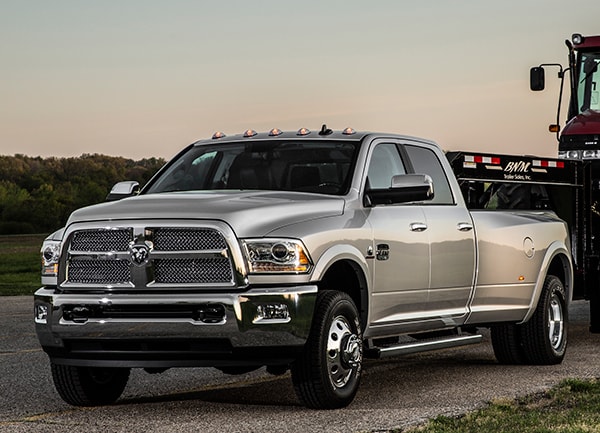 The 2013 Ram Heavy Duty models, the 2013 Ram 2500 and 2013 Ram 3500, have reset the bar for pickup truck towing and further advanced the luxury heavy-duty pickup.
Changes applied to all 2013 Ram HDs include three different ratings for the updated Cummins diesel engine and cooling systems, a new transmission, minor exterior cosmetic changes, a heavily revised interior and electronics package, and two rear camera options. 2013 Ram 3500 trucks get a new frame and front suspension arrangement.
The changes for 2013 have netted Ram a maximum towing limit of 30,000 pounds, more than 6,000 pounds greater than their GM and Ford counterparts; a 2013 Ram 3500 Crew Cab 4WD dually will tow at least two tons more than an F-450 Crew Cab 4WD, its nearest competitor. The Ram 3500 tows like a medium-duty truck in a pickup wrapper.
Chrysler's 383-hp Hemi 5.7-liter V8 with 6-speed automatic is the standard setup. Most models offer at least two powertrain choices, though Longhorns are automatic only and Power Wagons are gas engine only.
The 6.7-liter Cummins turbodiesel comes in three variants: 350-hp/660 lb-ft with 6-speed manual; 370/800 with 6-speed automatic; and 385/850 with 6-speed automatic on the MaxTow package. 2013 Ram pickup diesels require diesel exhaust fluid, or DEF, aka urea, typically refilled at oil change interval but easy for the owner to add and available at parts stores and fuel depots.
Fuel economy for the 2013 Ram HD models appears to be up 15 percent to 20 percent over 2012 models.
Ram HD rides well and cruises quietly by heavy-duty pickup standards but you can't compare the ride to a car, nor noise from six tires, lots of airflow and trailer hardware. We found a Ram 2500 rode quite comfortably with 800 pounds in the bed, and four-door cabs towed comfortably into the 28,000-pound range. As with most full-size pickups, four-door cabs' better body mounts and a longer wheelbase help ride quality and isolation.
Equipment levels vary from the Ram Tradesman's rubber-vinyl coverings and crank windows to Ram Laramie's heated steering wheel and rear seats, heated/ventilated front seats, driver memory system, configurable instrument cluster and text-to-voice infotainment systems. All cabs are roomy but the MegaCab offers more cabin lounging space than any HD pickup.
The most capable Ram HD pickup will carry nearly 7000 pounds of cargo, the least capable Power Wagon around 1600 pounds. Gas-engine tow ratings have improved, approaching 14,000 pounds, and the only towing statistic where the competition has an edge is in maximum tow-behind (as opposed to fifth-wheel or gooseneck), and we're not fond of pulling 18,000 pounds on a tow ball. Most HD pickups pulling a trailer rated for anything near their maximum load capacity may require some sort of driver's license beyond the norm or an endorsement.
The Ram 2500 and 3500 Heavy Duty models compete with Ford Super Duty, Chevrolet Silverado HD, and GMC Sierra HD pickups. Ram HD shares many interior elements and styling cues with Ram 1500 models, though they are not identical.
Ram HDs remain a compelling choice for anyone in need of a heavy-duty pickup truck. Ram Heavy Duty models are an excellent choice for anyone pulling big travel trailers, multi-car race trailers, big boats or a stable of horses. They are a good choice for anyone who has work to do, be it hauling construction tools and materials or substituting for a medium-duty when a primary business rig is on downtime.