2012 Dodge Avenger Summary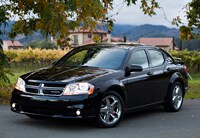 Recent improvements make the Dodge Avenger a contender, delivering more bang for the buck than most competitors. Its interior still isn't the richest or most sophisticated in this class, but it's roomy, quiet, straightforward and effective, like the car in general. The ride/handling balance is excellent. With a choice of engines, a range of models and good mileage ratings, the Avenger mates value and features with prices that are hard to beat.
Sam Moses reported from Portland, Oregon. With J.P. Vettraino reporting from Detroit.