2011 Jeep Patriot Introduction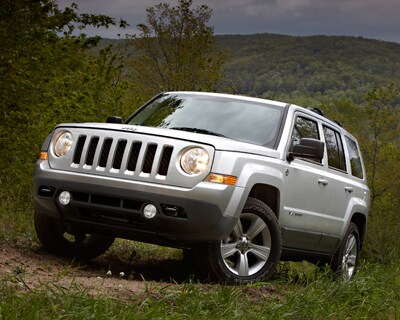 The Jeep Patriot is unmistakably from the Jeep garage, with its squared-off lines, seven-slot grille, and round headlights. The Patriot and its sibling, the Jeep Compass, are based on a car platform, but still deliver moderate off-road ability.
For 2011, Jeep Patriot has been significantly updated. The 2011 Patriot features fresh styling, upgraded suspension and steering, new interior materials, and a revised model lineup. The updates make the 2011 Jeep Patriot a noteworthy improvement over the 2010 model.
The four-door Patriot has plenty of room inside. There's adult-size headroom and legroom for rear-seat passengers. The 60/40-split rear seat folds flat, and a flat-folding front passenger seat is optional; with all the seats flat, you can slide an eight-foot kayak inside, for example.
Two four-cylinder engines are offered The larger of the two, a 2.4-liter four-cylinder, makes 172 horsepower and 165 pound-feet of torque, is EPA-rated at 23 mpg City, 28 mpg Highway with the manual transmission, and is standard equipment. It delivers good power; put the pedal down while cruising uphill at 75 miles per hour and it will accelerate. The smaller engine is 2.0 liters, makes 158 horsepower and 141 pound-feet of torque and is EPA-rated at 23/29 mpg with the manual transmission. The optional Continuously Variable Transaxle works well and we found the Auto Stick manual-shift feature useful.
We found the Patriot light and nimble on twisty roads and when maneuvering around town. Turn-in is sharp. The body is well isolated from the wheels: You can hear the tires hitting the expansion strips on the freeway, but you can't feel it. The independent suspension works well. During a long day of driving on patchy two-lanes, hard-packed dirt roads, sandy off-road trails, shallow rivers and deep gullies, it delivered steadiness and comfort in every abusive situation.
The Patriot is available with front-wheel drive or a choice of two all-wheel-drive systems, one that Jeep qualifies as Trail Rated. Those who like to go off the pavement (or tow more than 1000 pounds) should choose the Trail-Rated Freedom II AWD system. This uses gearing about 20-percent lower than the other models for steeper climbs and descents, but if you mistake it for a 4WD with a low-range transfer case like a Wrangler or Grand Cherokee you'll soon find yourself well and truly stuck.