2011 Dodge Ram Introduction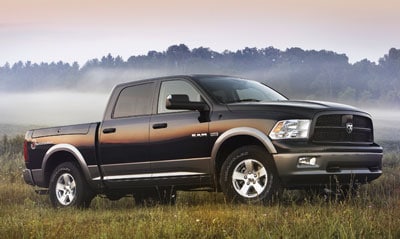 Bold and brash, the Ram is Chrysler's entry in the traditional full-size pickup market. The 2011 Ram is available in Regular Cab, Quad Cab (a long extended cab with forward-hinged doors), and full four-door Crew Cab versions. (No longer a Dodge, the Ram is now its own brand.)
The Ram 1500 offers a choice of three engines: A 3.7-liter V6 rated at 215 horsepower, a 310-hp 4.7-liter V8, and the 390-hp 5.7-liter Hemi. The V6 is fitted with a four-speed automatic transmission and the two V8s have a five-speed automatic. The V6 is available with rear-wheel drive only, but the two V8s are available with either two- or four-wheel drive.
On the outside, the Ram carries the familiar big-rig look started by Dodge. On the inside, it's full of interesting features. The Ram is an American full-size pickup truck, but it is different in several ways from its primary competitors, the Ford F-150 and Chevrolet Silverado 1500. The interior has its own flavor and offers several interesting amenities, and the cargo box has some unique features.
Underneath, where for decades pickup trucks have had live axles with leaf springs, the Ram's live axle is suspended by coil springs and it is located by four trailing links and a lateral Panhard bar. And the Hemi is the stoutest V8 available across the range.
The Ram lineup gets only minor changes for 2011. A new Ram Outdoorsman replaces the previous TRX model. Repackaging has made some 2011 Ram models less expensive, others more expensive. Other changes for 2011 include power folding mirrors (taken from the Ram Heavy Duty), a factory spray-in bedliner, Garmin navigation, and an active on-demand transfer case for 4WD models.