2011 Dodge Challenger Introduction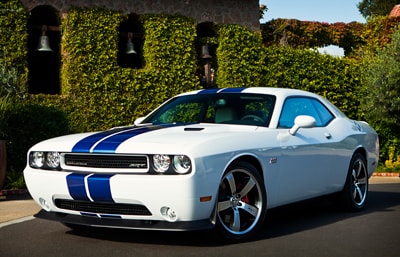 The Dodge Challenger brings muscle car performance and styling to everyday driving. The Challenger harkens back to 1970 and the current generation, launched as a 2008 model, amuses and delights us. For 2011, there are significant changes to engines and suspensions as well as changes to the interior.
The 2011 Challenger SE boasts substantially more power than last year's model yet significantly better fuel economy at the same time thanks to an all-new 3.6-liter V6 engine. The new Pentastar V6 produces 305 horsepower, 55 more than the engine it replaces, and 268 foot-pounds of torque. It comes with a 5-speed automatic transmission with a manual-shift capability, an improvement over last year's 4-speed automatic. Fuel economy has improved and the 2011 Challenger SE now gets an EPA-rated 18/27 mpg City/Highway.
The 2011 Challenger R/T benefits from a new cold-air induction system for its 5.7-liter Hemi V8. The V8 is rated at 372 hp and 400 pound-feet of torque with the 5-speed automatic, or 376 hp and 410 pound-feet of torque with the optional 6-speed manual. The Hemi uses a multiple displacement feature that switches off cylinders to save fuel, but EPA ratings are 16/25 mpg with the automatic and 15/24 mpg with the manual. We think the Challenger R/T is the sweet spot in the lineup. It can be used as a daily driver with a more compliant suspension than that of the SRT8 yet it's sportier and more fun than the SE. Challenger R/T competes with the Mustang GT and Camaro SS.
2011 Challenger SE and R/T models benefit from new suspension geometry and tuning, electro-hydraulic power steering, a new front air dam, larger wheels, revised gauges, a new steering wheel, improved seats, new Rallye and Super Sport packages, and more standard equipment.
The 2011 Challenger SRT8 392, as the SRT8 is now called, is named after its Hemi V8 in reference to its 392 cubic-inch displacement and that of the legendary Hemi engine of the late 1950s. The 2011 Challenger SRT8 392 comes with a new 470-hp 6.4-liter Hemi V8 that includes cylinder deactivation technology. The 6.4-liter engine replaces last year's 6.1-liter and power increases from 425 to 470 hp and torque is up from 420 to 470 pound-feet. EPA ratings are 14/23 mpg with the 6-speed manual and 14/22 mpg with the 5-speed automatic. The 2011 Challenger SRT8 392 also gets revised front end styling, new gauge graphics, quicker steering, and revised suspension tuning. The SRT8 comes with big Brembo brakes, the firmest suspension and a limited-slip rear differential. We found the SRT8 392 fast and stable. It's ready to go to the track yet we think it's compliant and controlled just enough that it won't beat you up during daily chores or weekend cruises.
The Challenger is an enjoyable muscle car. Driving it brings a smile to our face and it seems to light up others as well, in spite of any gasoline crises. Everyone seems to like the Challenger. We've driven all the models and like all of them. They all have their own merits but there are distinctions.
The cabin is mundane. Like muscle cars of the past, the Challenger is based on a sedan and the interior borrows heavily from existing materials. A new steering wheel is an improvement and the new 392 sport seats hold you in place in corners and are designed to accommodate large drivers. Climbing into the back seat is a struggle and legroom is tight but there's plenty of headroom, so it's fine for children and teens.