2011 Dodge Avenger Introduction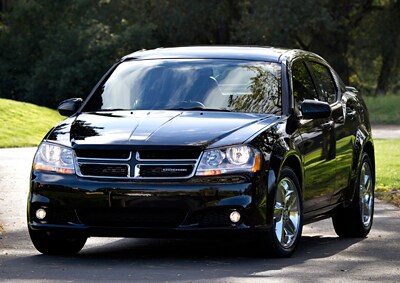 Since its brush with bankruptcy in 2009, Chrysler has been scrambling to get back in the game, and its 2011 models do just that (especially the all-new Jeep Grand Cherokee and Compass, and Dodge Durango). The new Dodge Avenger isn't a total redesign, but it's a big improvement over the previous Avenger so now it's a contender, offering midsize size at compact value.
The 2011 Dodge Avenger is a family sedan with size and safety that gets a combined 26 mpg.
The cabin has been totally redesigned for 2011, with the emphasis on silence. Noise, vibration and harshness (NVH) were reduced using 45 new sound-deadening treatments, including an acoustic glass windshield, laminated side glass, new sound absorption materials, and a new three-point engine mount system.
On the outside, the lines are cleaner and more aggressive. There's a new front fascia with the Dodge crosshair grille, and lower fascia with honeycomb opening and new projector beam foglamps. The rear fascia is more sculpted, and there are LED taillamps.
The 2.4-liter four-cylinder engine that comes standard has been recalibrated for 2011 for improved efficiency, allowing it to earn a 31 mpg Highway rating from the government, while producing the same 173 horsepower and 166 pound-feet of torque available previously. Standard transmission is a 4-speed automatic, but for 2011 there's a new 6-speed automatic transmission in most models.
Chrysler's 3.6-liter Pentastar V6 is also available in the 2011 Avenger, boosting performance to a best-in-class 283 horsepower and 260 pound-feet of torque. The V6 rates 19 City and 29 Highway miles per gallon, only 2 mpg less than the four-cylinder; gaining 110 horsepower and losing only 2 mpg is excellent. The V6 costs $2500 more, adding touch-screen Media Center, foglamps, spoiler, and 18-inch wheels.
Styling-wise, the Avenger isn't bad looking, but it blends invisibly onto the highway with the vanilla sedans, unless you're a MoPar fan with your eye out for them. It misses an opportunity to be eye-catching, like its big brother the Charger. It competes in a tough midsize field, against cars with distinctive looks, for example the Ford Fusion, plus the more vanilla Honda Accord and Toyota Camry.
The Avenger chassis is shared with the Chrysler Sebring, which was designed to be a convertible as well as a sedan, so it's stiff and strong, and you can feel the tightness in both the cabin and handling. It earns five-star crash ratings from the government's NHTSA.
Dodge engineers aced the suspension, upgrading 26 of 30 bushings and improving other things. When we drove the Avenger, we found ride quality and cornering response excellent. For 2011, the track is 1 inch wider, tires widened from 215 to 225 mm, and body lowered by 12 mm in front and 6 mm rear. Tighter, wider, lower, smoother, faster, it's all good.
The Avenger was supposed to be a baby Charger all along, and for 2011 it almost is, especially the Avenger R/T. A Charger-like mouth and manual transmission would clinch it.