2011 Chrysler 300 Introduction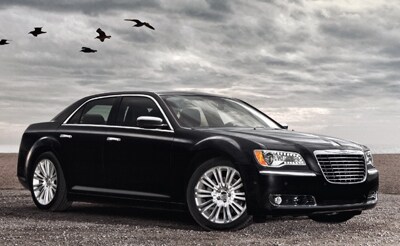 The Chrysler 300 has been redesigned for 2011, and the new model offers improved ride and handling, and it comes with a new V6 engine that's smooth and powerful. The result is an American luxury car with room, comfort, power and presence.
The 2011 Chrysler 300 succeeds a model that was enormously successful, a big sedan with rear-wheel drive that served as the brand's flagship. The outgoing Chrysler 300 was the most awarded, most recognized car in the history of the industry, and the most customized Chrysler model ever, the first Chrysler to adapt oversize wheels and tires, custom grilles, and other aftermarket custom touches. Replacing it during a period of grave uncertainty at Chrysler was a three-and-a-half-year program during which ownership changed three times, from Cerberus to the federal government, through bankruptcy and then to Fiat's control. Under those circumstances, it's something of a miracle that the replacement for the 300 came out as well as it did.
For 2011, Chrysler 300 looks much slicker. Aided by a new windshield design laid back three inches farther than the windshield on the original model, the 2011 Chrysler 300 achieves a drag coefficient of only 0.32. It looks bolder and classier than the previous version. Every body and underbody panel has been changed from the ground up to the roof, with a smoother, rounder front end, new headlamps, a new, rounder grille, a new hoodline and aluminum hood, new bumpers, larger windows with bright trim around them, more heavily sculpted fenders, a completely new treatment at the rear, with new Chrysler winged badges, and beautiful new LED lamps front and rear.
Underneath, nearly everything has been changed, stiffened, reinforced, or otherwise made stronger so that the four corner suspension systems can operate independently and accurately and provide a much better ride, quicker steering, and more responsive handling.
The Chrysler 300 competes with the Cadillac CTS, Lincoln MKS, Lexus GS, and Infiniti M. The Lexus LS 460, Mercedes-Benz E-Class, BMW 5 Series, and Hyundai Genesis were aspirational targets during development.
The Chrysler 300 and 300 Limited come with a V6 engine and 5-speed automatic.
The Chrysler 300C features a 5.7-liter Hemi V8 engine and 5-speed automatic.
The 2011 Chrysler 300C AWD model features a new, more effective and more efficient part-time, computer-controlled all-wheel-drive system with modified suspension pieces that allow the AWD version to ride much lower than earlier versions, at about the same ride height as rear-wheel-drive 300C models.